Oct 7–28, 2023
Brunch on the Go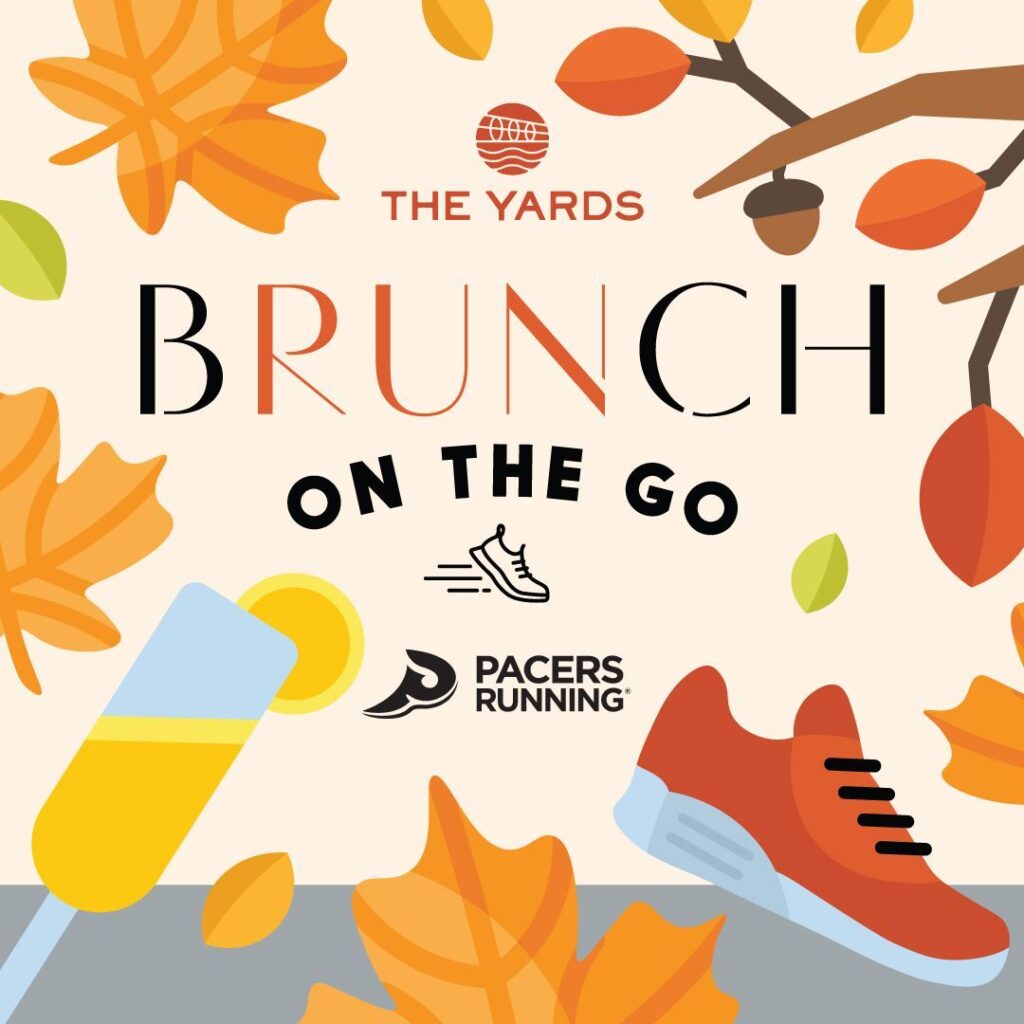 Ready, Set, Brunch! The Yards is partnering with Pacers and Lululemon to produce a run club for the brunching set on October 7, October 14, October 21, and October 28.
Purchase a ticket for two that will include a guided walk or run around The Yards. After the workout, guests will head to the participating restaurant to pick up their brunch to-go box for the date selected. Two lucky participants each week will win a gift card to Pacers or Lululemon!
Each ticket includes the following:
2 champagne glasses
2 fanny packs
1 bottle of bubbles
Brunch for 2 from your selected restaurant
A guided stretch and warm up with Lululemon
A guided walk or run with Pacers
Cardio Options:
>> 10:00am: 2 mile walk or 3 mile run
Meet in front of Pacers for a quick stretch and warm up
Pick up your brunch box at 11:00am at the participating restaurant on the date selected
>> 10:30am: 2 mile walk or 3 mile run
Meet in front of Pacers for a quick stretch and warm up
Pick up your brunch box at 11:30am at the participating restaurant on the date selected
Brunch certificates will be distributed upon check-in at the run/walk at Pacers. This will be used to redeem your brunch box.
Be sure to select your date and time during check-out!
Restaurants and their offerings are listed below:
October 7 – Chloe
Brunch for Two Includes:
Heirloom Tomatoes with Caramelized Sweet Corn, Pita Crisps, Roasted Peppers, Feta & Za'atar Vinaigrette
Fingerling Potato & Edemame Salad with Grilled Scallions, Wasabi & Toasted Sesame
Roasted Sweet Potatoes & Shiitake Mushrooms with Fragrant Herbs, Chilies & Sticky Rice
Organic Chicken Braised in Red Curry with Anise Basil & Egg Noodles
Coconut Chia Pudding with Autumn Fruits & Quinoa Crumble
Bottle of Bubbles
October 14 – La Famosa
Brunch for Two Includes:
Mallorca Cinnamon Roll – Traditional cinnamon roll made with Puerto Rican mallorca bread
Pastelillo de Manana – Breakfast hand pie filled with egg, cheese and beef picadillo
El Classico – Breakfast sandwich with bacon, mezcla cheese spread, an over easy egg and Chef's secret breakfast sauce
Tripleta with Tostones – Traditional Puerto Rican three meat sandwich with sliced ribeye, pernil and ham topped with swiss cheese, caramelized onions, potato sticks and mayo ketchup
Carne Frita – Fried pork belly chunks tossed in mojo de ajo with onions and tostones
Arroz Con Gandules – Rice and Pigeon Peas
Bottle of Belle Jardin – French sparkling wine served with guava nectar on the side for guava mimosas
October 21 – Agua 301
Brunch for Two Includes:
Fruit plate – Cantaloupe, honey dew, mango, pineapple
Brunch Burrito- Bacon, ham, eggs, black beans, chihuahua cheese with side of pico de gallo and crema
Breakfast Cuban Sandwich – Braised pork, ham, pickles, Swiss cheese, mustard sauce and two fried eggs
Side of breakfast potatoes
Churros- Tossed in cinnamon with fosters sauce for dipping
Bottle of Rose Cava, Spain
October 28 – Due South
Brunch for Two Includes:
Biscuit Sliders:
Country Ham, Pimento Cheese, Pepper Jelly and Pickled Okra
Pastrami Smoked Salmon and Chive Cream Cheese
Shaved Red Onion with Capers and Tomato
Kale Salad – Kale, carrots, farro, pumpkin seeds, avocado, feta, charred scallions and green goddess dressing
Cinnamon and Sugar Biscuits with Lemon Whipped Cream and Fresh Berries
Bottle of Jules Loren Brut Champagne
*Tickets are non-refundable*
Must be 21+ to participate
Register Now!